TES-Centre- Training and Extension System
joins Green Alliance KG as its new member
An agreement on joining the TES-Centre- Training and Extension System was signed between Elisa Churokova, director of the TES-Centre office in Bishkek, and Ilgiz Kambarov, Executive Director of the Green Alliance KG.
The TES Center is a Kyrgyz nongovernmental organization (NGO) that aims to increase the income of the agricultural population through quality training and consulting, established in 1999 by GTZ, together with Osh State University. The TES Center collaborates through consulting and training, as well as the establishment of business relationships.
As you know, one component of the Green Alliance's mission is to promote green agriculture.
"We are convinced that by joining our efforts we will be able to promote the principles of green agriculture more effectively, giving a new impetus to the benefit of local and national development," Ilgiz Kambarov noted.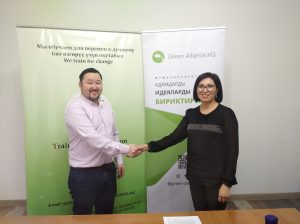 Eliza Churokova emphasized that the TES Center consists of a team of experienced specialists in agronomy, animal husbandry, economics and management, with many years of experience and the necessary skills in the field, and added that since its establishment in 1999, the TES center has implemented many projects which show sustainability and success!
In addition, the TES Center actively offers value chain development consulting, practical farmer consulting, and organizational development. Whereas the training school at the TES-Center allows the professional development of all those who cooperate and work with the TES-Center.
The TES Center is headed by Baktygul Satykulova, a leader with solid experience, who stood at the origins of TES Center formation and achieved great results. The TES Center is based in Osh and has a representative office in Bishkek headed by Eliza Churokova, an experienced expert in the management, implementation and monitoring of agricultural projects.