Central Asian youth unites efforts in water and climate action at RCOY Central Asia
The First Regional Conference of Youth on Climate Change "RCOY Central Asia" took place in Bishkek, Kyrgyzstan in the period from 1 to 3 December 2022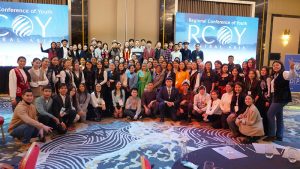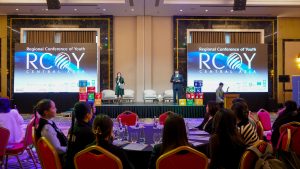 The conference officially closed a round of youth climate conferences that took place throughout this fall under the "RCOY Central Asia" umbrella in the region. This way RCOY Central Asia captured pre- and post-COP27 periods and engaged 300 youths from Central Asia. More than 100 young people attended the conference in Bishkek. These are youth from all parts of Kyrgyzstan, representatives of Central Asia youth from Afghanistan, Kazakhstan, Karakalpakstan, Tajikistan, and Uzbekistan.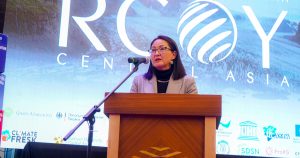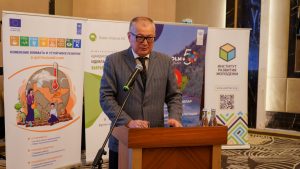 The main goal of the RCOY Central Asia is to build capacity and resilience and unite efforts of the Central Asian youth in water and climate action across various levels: national, regional, and global in several stages: pre and post-COY17 and pre and post-COP27, and upcoming UN Water Conference 2023. For these purposes series of RCOY conferences in Central Asia focused on educating the youth of the region about climate change – science, impacts, and solutions, motivating them to take action, and empowering participants to start change initiatives in their lives and communities.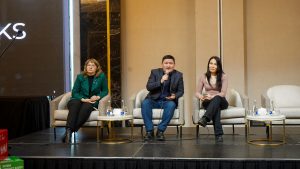 The conference program was based on keynote speeches, intergenerational "Green Talks" with senior experts in various sectors, educational science-based Climate Fresk games, group work, and many more.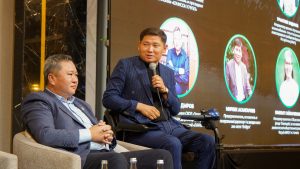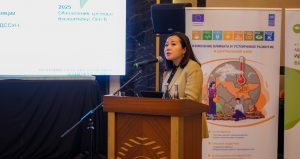 ROY Central Asia Statement was forwarded to COY17 and YOUNGO and became part of the global youth statement which was submitted to COP27 by the youth constituency during the conference. At the conclusion of the post-COP27 and beyond reflections, young participants will gather their ideas for a youth vision towards better and stronger unified climate and water action in their communities and the region/countries.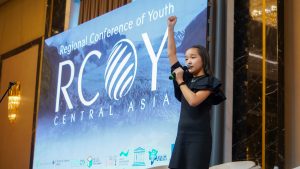 Erkin Kasybekov, Senior Advisor to the UNDP Resident Representative in the Kyrgyz Republic, said: "We should support youth to come together and organize themselves – as the future custodians of our planet – in leadership and advocacy for the climate. While we all exist here as a gift of our ancestors, it is time that your generation considers your legacy. We must leave them a planet that is livable and where humanity can continue to thrive."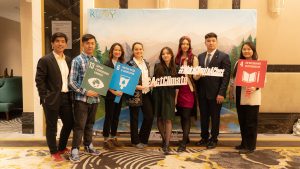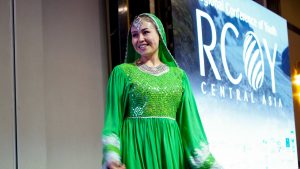 "For centuries, "kurak" (patchwork) has been an expression of art and can be traced back to the cultures and peoples of Central Asia. And it is powerful to have been chosen as a symbol of the Regional Youth Conference (RCOY) in Bishkek to unite the peoples, and specifically, the youth of Central Asia into one inseparable whole to address challenges the region faces by uniting for better dialogue and solutions," noted David Westenfelder, Deputy Head of Mission Embassy of the Federal Republic of Germany in Kyrgyzstan.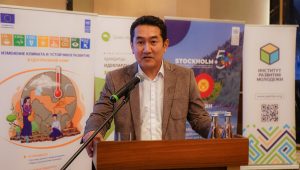 Azamat Temirkulov, Head of the Department for Analysis and Monitoringnof Reforms of the Presidential Executive Office of Kyrgyzstan: "Every living organism seeks to preserve what it has received from previous generations and pass on to the next generation. The entire universe is built on this. This is the basic law of beingю Therefore, it is important to preserve our land, mountains, glaciers and rivers and pass them on to future generations."
"Today's event is particularly important. This is a platform that will open up great paths and opportunities for you. Youth is the main engine of development of our country, everything depends on you," said Soyuzbek Nadyrbekov, Deputy Minister of Culture, Information, Sports and Youth Policy of the Kyrgyz Republic.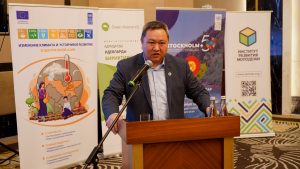 Arstan Kadyrov, Chairman of ALE (Green Alliance of Kyrgyzstan) addressed to the participants: "Your efforts and achievements today are the fundamental results of the search for solutions to preserve the environment."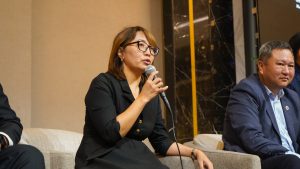 "Young people are not only the future but also our present because they are the most enterprising and dynamic part of society. It is inherent in them the desire to create something new and to search for the most successful solutions. Sustainable development of the state to a great extent depends on how its strategic, economic, and political course is supported by the young generation, through its creative activity. It is great to see an active young generation in Central Asia, uniting to consolidate efforts to tackle climate change," said Nurzat Abdyrasulova, President of UNISON Group.
Begim Zhanuzakova from RCOY regional team, COP27 youth delegate: "For youth (globally and of course in our region) climate is everyone's business. We see the efforts of our governments in leading their key role in climate action. And acknowledging that it is simply not possible to tackle the climate crisis and all associated challenges alone, we are ready to continue this involvement in and for climate action as the youth of our countries, as the youth of the region, as part of the global community"
COY17 youth delegate Samar Kanatov: "Last year we as youth were supported with the first LCOY in Kyrgyzstan. And, this year we are doing, even more, we created a wave –  a climate action youth wave in Central Asia! I was honored to deliver our RCOY Central Asia achievements to the global climate gathering of youth at COY17 this year."
The RCOY Central Asia series is organized by a group of youth, following the "youth for youth" principle. RCOY Central Asia youth team is represented by a number of youth and environmental organizations and initiatives, including Green Alliance, CAY4W, and Youth Development Institute, and is supported by the United Nations Development Programme (UNDP) – the project "Climate Change and Resilience in Central Asia" funded by the European Union, and the Stockholm+50 initiative.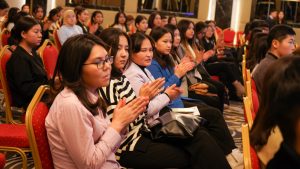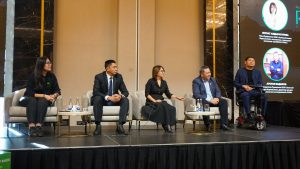 For information:
RCOYs are regional conferences of youth endorsed by the Youth Constituency of UNFCCC (YOUNGO) and aimed at collecting ideas and voices of youth from regions across the world to be further carried forward to UNFCCC COP.